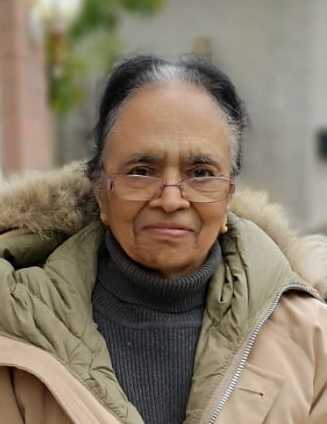 Obituary of Mrs. Mary Mangattur
On Thursday, November 7, 2019, Mary Thomas Mangattur, loving wife, mother and grandmother passed away at the age of 83.
Mary was born on February 10, 1936 in Kerala, India to Thomas and Mariamma Poochalil. She became a nurse and in 1967 moved to the United States. In 1969 she moved to Toronto and started working at Centenary Hospital. On February 16, 1969 she married Jacob Varghese Mangattur. They raised two sons Tomy and Jason, one granddaughter, Noelia and several pets (Christy, Champ, Champ (2), Nikita and Duke). Mary was also like a mother and grandmother to many of her friends and family.
Mary had a passion for gardening. She loved working in her vegetable and flower gardens. Her friends and family always enjoyed the beauty of her gardens and the fruits of her labour. Mary always had time for others and was always there in their times of need. She was known for her take charge personality, her beautiful smile and her loving spirit.
Mary was proceeded in death by her parents, Thomas and Mariamma, her three brothers, Thomas, Sebastian, and Matthew. She is survived by her husband Jacob, her two children, Tomy and Jason, her daughter-in-law, Shamitha, her granddaughter, Noelia, her three sisters, Elamma, Teresa and Rosamma, several nephews and nieces. Family will receive friends at the Ogden Funeral Home, 4164 Sheppard Ave., E. (East of Kennedy Rd.) funeral service will be held Monday, November 11, 2019 at 10:30AM at St. Barnabas Roman Catholic Church on 10 Washburn Way, Scarborough (M1B 1H3). Flowers may be sent to Ogden Funeral Homes on 4164 Sheppard Avenue East, Scarborough (M1S 1T3). Donations can be given to the Alzheimer Society